News
Staff Spotlight: Steph Timm
March 24, 2021
Pinned
Back to top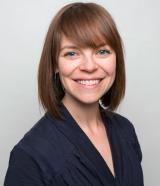 In honor of Women's History Month, we are proud to spotlight the Department of Medicine's recently chartered Gender Equity Council, and the GEC co-chairs Dr. Susan Merel and Dermatology Education and Training Programs Manager, Steph Timm.
The Hub of the Wheel
Within the Division of Dermatology, Timm works in close partnership with the residency program leadership team which include the Program Directors and Co-Chief Residents, managing the ACGME accredited residency program, and she also supervises a team that includes the Medical Student Program and Continuing Medical Education Program administrators.
"I think of my job as the hub of a wheel," says Timm, "with spokes reaching out to all the different groups--residents, teaching faculty, division administration, GME, ABDerm, ACGME--all to make the Derm education and training world go 'round."
Timm and her team are responsible for organizing recruitment for the Dermatology Residency Program each winter, and recently completed the program's first completely virtual residency interview days. With social events, presentations, and interviews all being held through Zoom, Timm and her team carefully planned out every part of the process, resulting in a positive experience for both the candidates and the interviewers.
"Candidates have to invest so much time and money to travel to interviews, and going virtual, I think, has positive impacts on equity," said Timm.
As a member of the education team, Timm feels it is imperative to do everything possible to assure an equitable, safe, and inclusive learning environment. She seeks to incorporate these principles into her work through activism in the Dermatology Division's Equity, Diversity and Inclusion (EDI) Committee and as the co-chair of the Department of Medicine's Gender Equity Council.
"Behind her calm, kind and unflappably positive veneer, Stephanie is a warrior," says Dermatology EDI Committee Chair Dr. Merideth Sheedy. "She is a staunch advocate and integral to our work in making the Dermatology division a more equitable, diverse and inclusive environment. She demonstrates the strength of women and she has a unique ability to make you want to work harder and just be better. "
Timm credits all her interdisciplinary involvement to her background in theater and her love of collaborating with a team, "I think of all the committees that I am part of as mini production teams, and the initiatives we are working on as tiny shows."
The Art of the "Dual-Life"
Timm is originally from Fargo, North Dakota where she began to cultivate two senses of purpose – a passion for the arts, including poetry, acting, and writing, and a drive to support that passion through practical means. Beginning at the age of 14, Timm would often maintain a regular job (and sometimes 3) so that she could pursue her creative endeavors.
"In college, I had three jobs at all times," Timm remembers, "so that I could study such impractical things as Attic Greek (leave it to me to choose a dead language to fill my requirement), literature, writing, art, and theatre."
Timm continued this dual life upon her move to Seattle, holding jobs ranging from answering phones at a theatre box office to waitressing at an all-day breakfast restaurant to teaching writing to being assistant to the Chair at UW in the School of Public Health. During this time, Timm acted in and produced plays, and discovered her love of playwriting. She attended graduate school and received her MFA in playwriting – "during my third year I had my son, which involved a whole lot of unpaid labor and invisible work that forced me to miss a lot of puppetry class."
Timm joined the Division of Dermatology after graduating and has held several different roles over the years, from part time academic human resources to her current role of education programs manager.
"During my many years in Derm, I have also held a faculty position at Cornish College of the Arts, had several plays produced at theatres including ACT and 5th Avenue Theatre, and I even wrote for a point and click adventure video game that sadly never got made before funding ran out. I'm still working on a long overdue commission for Tony Award winning South Coast Repertory Theatre."
Changing the Landscape
Through her experiences as an actor and writer, Timm became acutely aware of the limited opportunities and representation for women in theater. Not finding many unique roles for women or plays that feature stories about women, Timm began to write her own.
Similarly, academic medicine is a field that has also been characterized by a lack of opportunities and representation for women and people of color. In the same way that Timm began to write her own stories in her creative life, she found ways to help change the environment in her work life. As co-chair of the Gender Equity Council and member of the Dermatology EDI Committee, Timm is able to use her creativity and passion for collaboration to help lead efforts toward making the department a more inclusive and welcome workplace for all.
"Stephanie is a fierce champion for equity, diversity, and inclusion," says Associate Chief of Dermatology Dr. Michi Shinohara. "She has steadily and surely helped push our Division towards growth, and we are incredibly lucky to have her as a partner in Dermatology.

"Stephanie simply takes things and makes them better."
Merging the Two Lives
As a writer, Timm has reflected on how she reconciles the seemingly opposite natures of her dual life, included here in her original prose:
"As a writing teacher, I loved being the gentle and benevolent authority who was able to help guide students get in touch with what they really wanted to express, then helping them craft it and also connect them with other artists and groups who could help their careers. I was also able to consistently create a safe space where writers could be comfortable being vulnerable (a first draft is their beating heart on a dinner plate—proceed with kindness and respect), and creating a group dynamic in which everyone trusted each other and could take feedback. We were all there to make each other's writing better and help each other's careers.
"In theatre, the spirit of continuous improvement is as strong as collaboration. After productions, our theatre company would have "post mortems," which included going over what worked well and what didn't, what to do differently next time. As a playwright in workshops, the group reads the work then discusses, "What resonated? What was confusing? What did you want more of?" I've had so much experience with my own raw, beating heart on a plate during playwriting workshops, surrounded by directors, actors, and dramaturgs, all who have their well-meaning forks out and who have brought their own condiments to offer. This was always a somewhat scary but completely rewarding process when I learned to not take anything personally, it's all about the work and making it better. We can be so myopic when it comes to our own ideas and intentions, and all of us need some degree of feedback to understand what is actually coming across, what do we have, what have we made and how can we get from here to there.
"Though it may seem like working in an administrative capacity in medical education would be the polar opposite of working in an artistic environment, I find that collaboration and the spirit of continuous improvement are just as important. 
"Some author whose name I don't remember once said, 'A piece of writing is never finished, it just stops in interesting places.' This is true about any process, any project. It's really a constant, slowly changing thing that needs reflection and creativity to keep evolving it to the best it can be. Creativity and collaboration are always essential to being able to respond to the moment we are in."